Successful Field Trials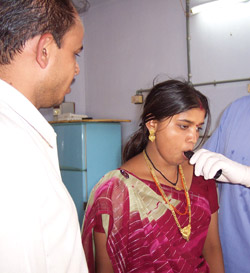 Screening patients for TB at the Shri K. J. Mehta TB Hospital in Bhavnager, India
The performance of the Rapid Biosensor Systems TB Breathalyser has been validated in a series of field trials with over just under 1000 patients within five different a hospital environments, as part of five different trials.
The system successfully passed completely independent trials in Ethiopia under the supervision of the London School of Hygiene and Tropical Medicine see:
"Field test of a novel detection device for Mycobacterium tuberculosis antigen in cough" http://www.biomedcentral.com/1471-2334/10/161 and at the WHO-approved Shri K. J. Mehta TB hospital in India.
Our most recent trials were conducted successfully on pre-production beta prototypes at the Ayder Hospital, Mekelle University, Ethiopia, where tests were carried out in 3-centres, the Ayder Referral Hospital, Mekelle & Wukro Hospitals in 2012-13. The results showed sensitivities and specificities of >95% for early stage actively infectious patients.